How does the WSO2 platform work, and how can you contribute while studying? If you're a student at the University of Jaffna, join us as we discuss extensions and how to begin your journey of open source contribution.
This is the summery of meetup if some one miss the meetup please find the slides here.
See how the authenticator works
and more
References:
Sessions.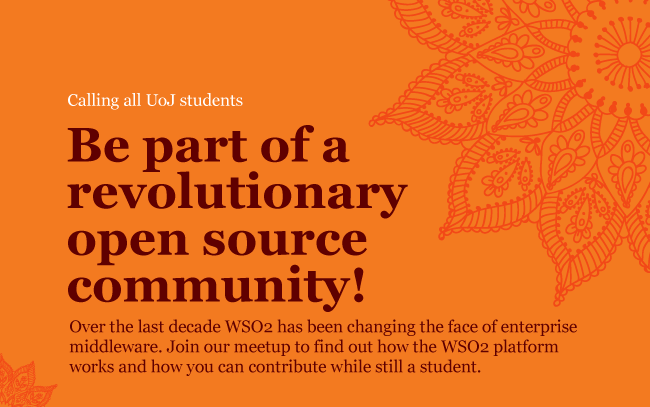 Sessions
What is Open Source? Where does WSO2 come in?
Open Source Software (OSS) is where the source code is available for modification or enhancement by anyone. Open source projects embrace and celebrate open exchange, collaborative participation, rapid prototyping, transparency, meritocracy, and community development. In this session, Malaka explains how open source works, why, and what it has brought us - and how WSO2 uses open source to make a difference.
Malaka Silva

Senior Technical Lead
WSO2 Platform Extension team
What is a Connector?
Connectors are essential to the WSO2 platform, allowing you to use WSO2 to connect and interact with services which are provided by third parties. Keerthika discusses how these operators work and how you can wrap them around the APIs of an external service.
Keerthika Mahendralingam

Associate Software Engineer
WSO2 Platform Extension Team

Kesavan Yogarajah

Associate Software Engineer
WSO2 Platform Extension Team
What is an IS Authenticator?
An authenticator allows you to use third party authentication systems such as LinkedIn, SMS OTP and Tiqr to authenticate a user who logs in to your application. In this session, Kathees and Rajjaz will guide you through how these authenticators work and how to make one for yourself.
Kathees Rajendram

Software Engineer
WSO2 Platform Extension Team

Rajjaz Mohammed

Associate Software Engineer
WSO2 Platform Extension Team
Saturday, April 30 | 9:00 a.m. to 12:00 p.m.
WSO2 Jaffna Office, 218, Stanley Road, Jaffna
RSVP


This event is exclusively for students at UoJ. Seats are limited.